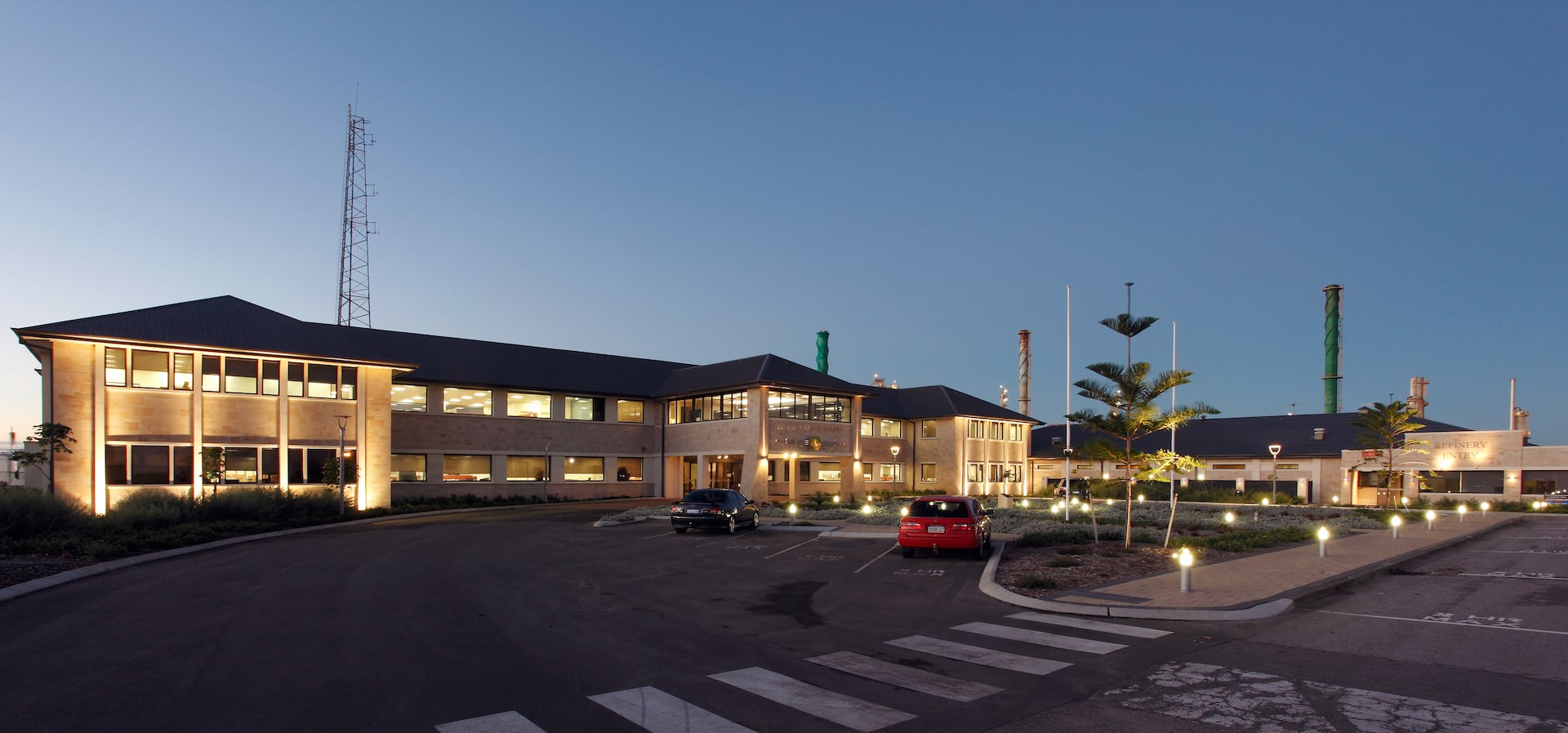 Commercial Redevelopment: BP Kwinana Refinery
Posted 19-Oct-2017 by Elina D'Cruz
Safety first
After the catastrophe in Texas, the BP Kwinana Refinery was one of many aged sites identified for redevelopment as part of proactive measures to avoid similar disasters.
Being Part of Something Bigger
BP on the recommendation of Paul Meschiati & Associates (PMA) engaged PGD as the services engineer. PGD viewed this opportunity as a positive contribution to safety in the workplace.
If we can stop one injury or save one life we have made a difference.
A Partnership of Trust and Dedication
Commencing in 2006 and spanning 10 years PGD in partnership with PMA were key in the delivery of the following facilities at the BP Kwinana Refinery:-
Administration Building
Café Building
Change House Building
Medical Centre
Security Office
Fire Station
Central Control Building
Laboratory Building
Central Server & Communications Room
Field Off-site Centre
PGD's dedication to studying BP's Global Standards, building an intimate knowledge of existing systems and processes, and understanding the needs of various stakeholder groups created a foundation of trust and respect for the PGD team.
Early in the engagement, the smaller project of upgrading the Radio Room facility required the creation of a room with robust facilities. PGD understood the criticality of the room to both the safety and operation of the refinery. Armed with this knowledge PGD presented a strong case for implementation of a redundant UPS system to support the Radio facilities then power by a historical battery system. BP conscious of the cost initially were unconvinced, but within a week the failure of this battery system rendered the radio system inoperative and evacuated the refinery with operational losses in the hundreds of thousands. BP responded, implementing PGD's proposal. This set the level of trust which continued to build over the next ten years.
PGD's expertise in critical facilities, management of time-critical shutdowns and dedication to improving safety, ensured BP stakeholders were at ease and stress-free with the knowledge that PGD was their partner in the redevelopment of a safer BP Kwinana Refinery.
recent post
Posted 04-May-2018 by Elina D'Cruz

Posted 19-Oct-2017 by Elina D'Cruz

Posted 17-Oct-2017 by Elina D'Cruz
SYDNEY
Level 13/50 Carrington Street,
Sydney NSW 2000
MELBOURNE
Level 13/114 William Street
Melbourne, VIC, 3000
PERTH
180 Aberdeen Street,
Northbridge WA 6003
connect with us
Call us on 1300 00 6377 or tell us about your next project ....