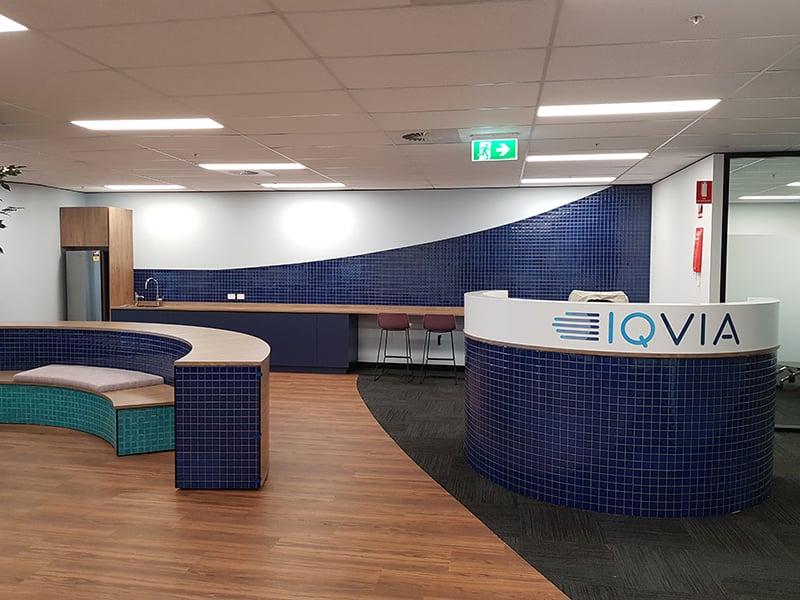 Commercial Office Fit-out: IQVIA in St Leonards
Posted 04-May-2018 by Elina D'Cruz
The Challenge
IQVIA needed a new home to consolidate their Sydney team. The challenge was delivering this within the restrictions of budget, timelines and IQVIA global standards.
The Right team is all you need!
IQVIA looked to CBRE to meet this challenge. The tight budgets and timeline dictated the design and construct approach however the key was finding a team with a proven track record of delivering. Cachet Group and PGD as the services engineer was the right choice.
A Stress-Free Journey
CBRE set clear milestones and facilitated an open discussion with the IQVIA team. This provided PGD with the forum to develop a clear brief and articulate services solutions that met the intent of IQVIA's global standards, within the bounds of budget and programme.
Behind the scenes the services design faced challenges of missing base building information, an unfinished make good and equipment lead times. The "PRONAV" unified delivery model, unique to PGD, identified and mitigated these unforeseen risks, reinforcing the trust placed in PGD. This systematic approach ensured IQVIA did not spend a cent more than they needed to.
PGD's services documentation became the manual for the services contractors to bring the IQVIA fit-out to life. With not a single RFI raised, it was clear PGD hit the mark. The construction phase progressed on time and on budget ensuring a stress-free delivery for the CBRE project management team.
Proud Partners in a Flawless Delivery
Consolidated under a single roof and in the comfort of their new accommodation, the IQVIA Sydney team moved to new chapter inspired to make a difference in the health care industry.
The end result of this proud partnership between CBRE, Cachet Group and PGD was, as Pavel Mikula (CBRE) so eloquently puts it "a flawless delivery".
recent post
Posted 04-May-2018 by Elina D'Cruz

Posted 19-Oct-2017 by Elina D'Cruz

Posted 17-Oct-2017 by Elina D'Cruz
SYDNEY
Level 13/50 Carrington Street,
Sydney NSW 2000
MELBOURNE
Level 13/114 William Street
Melbourne, VIC, 3000
PERTH
180 Aberdeen Street,
Northbridge WA 6003
connect with us
Call us on 1300 00 6377 or tell us about your next project ....